Malaysian Quinoa (Vegetarian)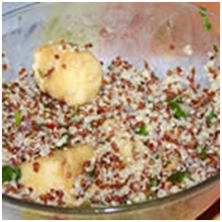 Quinoa and soya chunks with satay sauce.
Categories:
Ingredients
1 1/2 cups water, divided
1/2 cup dried soy chunks (textured
vegetable protein)
1 tablespoon peanut butter
1 tablespoon canned cream of coconut
1/2 bird's eye chile, seeded and minced
1/2 green onion, diced
1 teaspoon chopped cilantro
1/2 cup uncooked quinoa
salt and pepper to taste
Directions
1.Boil 1/2 cup water, and pour into a bowl. Mix in soy chunks. Blend in peanut butter, cream of coconut, chile, green onion, and cilantro. Keep warm while the quinoa cooks.
2.Bring quinoa and remaining 1 cup water to a boil in a pot. Reduce heat to low, cover, and simmer 15 minutes, until quinoa is fluffy. Stir in the soy chunks and peanut butter sauce, and season with salt and pepper to serve.
Nutritional Information
Servings Per Recipe: 2 ,Calories:11.967 oz ,Total Fat:0.325 oz ,Cholesterol:0 grain ,Sodium:0.285 grain ,Total Carbs:1.317 oz ,Dietary Fiber:0.187 oz ,Protein:1.094 oz ,:,